In 1991, Tom Fazio ventured into the piedmont of North Carolina and created a masterpiece along a 2 1/2 mile peninsula in Badin Lake. The piece of land now known as Old North State at Uwharrie Point was soon developed, and in 1992, the golf course bearing the historic name for North Carolina, "Old North State Club," opened for play.
The course quickly gained a reputation with golfers from across the nation as playable and scenic: Par 72, a total of 7,102 yards with a slope rating of 143 and rated 75.1 from the tips. In 1992, the course was awarded the #2 spot in Golf Digest′s ranking of best private courses in America. To date, those high marks have remained with Old North State Club hold the current ranking of 4th in the state for private courses. Currently for 2016, the ONSC course is ranked . . .
. . . # 1 for Best by Region in the State.
. . . #1 for Best Collection of Par 4s in the Region.
Its Par 5 - 18th is also ranked as the best finishing hole in North Carolina according to the 2013 NC Golf Panel.
Due to the mild North Carolina climate, the course is open year-round and serves as host to numerous events including the ACC Men′s Golf Championship for the past 18 years.
"It reminded me a little bit of the Monterey Peninsula in California, which rises above the Pacific Ocean between Carmel and Pacific Grove with its many steep elevations and contours that provide such interest in the golfing terrain at Pebble Beach, Cypress Point, Spyglass Hill, and the other fine golf courses there." -Tom Fazio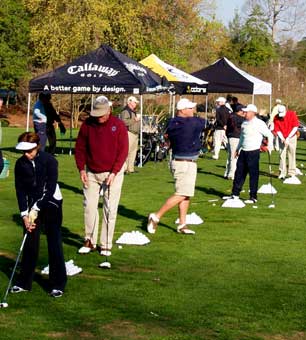 Join Our Mailing List
Stay abreast of what's available at Old North State at Uwharrie Point. We promise not to sell your information.
Join Now
Map of Old North State
Download a PDF map of all neighborhoods

Visit Old North State