An active and healthy lifestyle is part of our members′ routine at Old North State. The fitness center at Old North State Club is accessible 24 hours a day, 7 days a week. It offers the latest equipment - treadmills, stationery bicycles, cardiovascular machines, and a universal free weight machine - to help you get fit or keep you fit, whether you′re training for a 5K, focused on a sport-specific regimen, or just want to maintain flexibility.
PTA Global Certified Personal Trainer, Steven Duffy, is a key component to achieving goals members set for themselves. Duffy "loves changing lives and improving health" and believes "whatever goal you have is attainable." Through his individual fitness training, group classes and sport-specific programs, clients at Old North State love both the challenges he presents and the results they′re getting.
Group classes include "yogalates", a combination of yoga and Pilates, as well as core strengthening to help those looking to get back into shape or expand upon someone′s already strong fitness goals.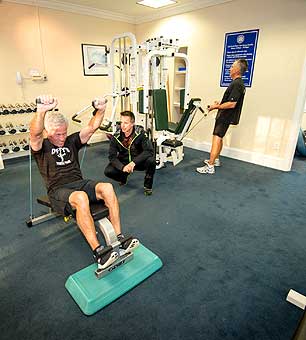 Join Our Mailing List
Stay abreast of what's available at Old North State at Uwharrie Point. We promise not to sell your information.
Join Now
Map of Old North State
Download a PDF map of all neighborhoods

Visit Old North State