The Tennis Center offers six Har-Tru clay courts with lights for night play. Year-round private, group and junior instructional programs are available from highly-qualified tennis professionals to teach and improve every aspect of your game. Whether you′re looking for a relaxing game to sharpen your skills or more of a competitive challenge, you will find everything from singles to doubles, ladies or mens play to mixed groups. In addition to regular weekly play dates, there are often special tennis events throughout the year as well as matches against other clubs. The Tennis Pro Shop is a full service shop offering racquet stringing, re-gripping, and a wide selection of racquets, as well as men's and ladies′ tennis apparel.
Click here for the 2016 Old North State Club Tennis Calendar.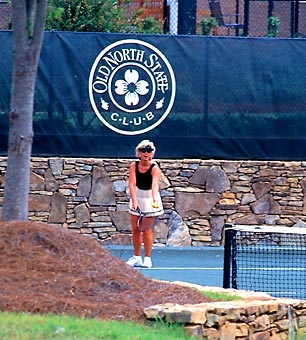 Join Our Mailing List
Stay abreast of what's available at Old North State at Uwharrie Point. We promise not to sell your information.
Join Now
Map of Old North State
Download a PDF map of all neighborhoods

Visit Old North State